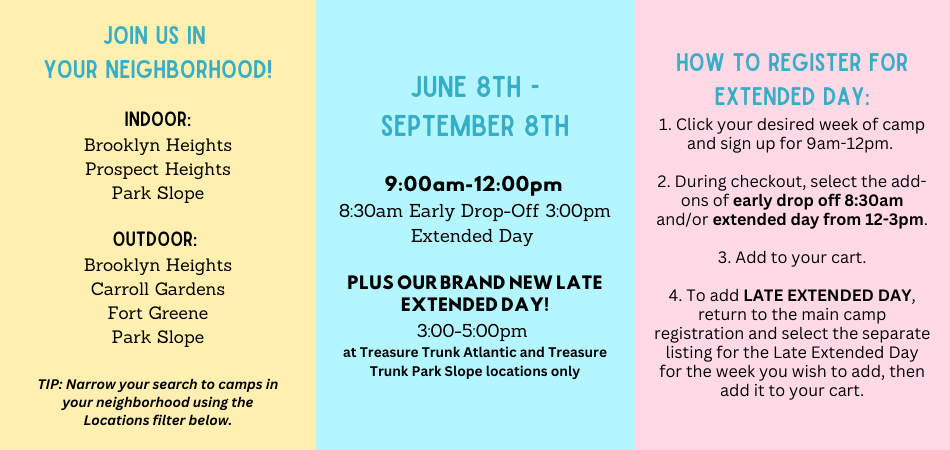 Camps: Ages 3-6 yrs
Come join us as we explore the world of drama and dance using the themes and music from our favorite stories! Each day will be filled with dramatic games to warm up our bodies and voices and get our imaginations ready for theatrical exploration. Students will learn essential theatre skills and terms, engage in dramatic play, explore dance and movement, and create artwork each day.
All camps include an online album of photos and a short performance at the end of the camp so you can see your child's work.
Whether your child already enjoys performing or is a little hesitant, our camps are aimed to boost their confidence and get them excited about being themselves!
Sample Daily Camp Schedule
9:00am-9:30am– Theatre warm ups to get our bodies and voices ready for the day
9:30am-10:00am – Dance and Movement Class
10:00am-10:30am – Word of the Day & Craft
10:30am-10:45am – Snack Break
10:45am-11:15am – Story Drama (Reading stories and acting them out)
11:15am-12:00pm – Skill building and rehearsing for end of the week performance
12:00pm – Pick up
12:00pm-3:00pm – Optional Extended Day
12:00pm– Lunch!
12:30pm – Outdoor Free Play!
1:15pm – Ensemble Art Exploration
2:00pm – Theatrical Exploration
2:45pm – Reflect & Share
3:00pm – Pick Up
Creativity Co-Lab Camps: Ages 6-8 yrs
Step into Treasure Trunk's laboratory of imagination, collaboration, magic and more! Tailored to our older campers, our week-long theatrical camps will focus on cultivating teamwork, fostering confidence and celebrating each child's unique voice.
This "next level" camp series includes a variety of weeks, focused on different aspects of the theatre world. From Shakespeare to musical theatre and more – we encourage our community of growing Treasure Trunkers to experience it all to find their individual passion. Whether your kiddo loves the spotlight, has a knack for crafting incredible costumes, or is destined to direct…there is something for everyone this summer at Treasure Trunk!
Sample Daily Timeline:
9:00am-9:15am – Drop-off! As Kiddos arrive, we will have a welcome activity so they can jump right into the fun as all of our friends arrive!
9:15am-9:45am – Welcome & Warm-ups
9:45am-10:15am – Ensemble Building Activities
10:15am-10:30am – Snack Time
10:30am-11:00am – Movement & Dance
11:00am-12:00pm– Module 1 – Kiddos will open our magical treasure trunk to reveal the story we will be focusing on for the day.
12:00pm-12:30pm – Lunch
12:30pm-1:15pm – Free Play – Students will be encouraged to utilize the playground at our outdoor locations, and we will have select outdoor toys for them to use as well.
1:15pm-2:00pm – Module 2 – Kiddos will open our magical treasure trunk again to reveal the second focus of the day.
2:00pm-2:30pm – Rehearsal Time – Part of exploring the world of theatre as an older camper is learning the art of rehearsing!
2:30pm-3:00pm – End of the Day – Reflections and Celebration!