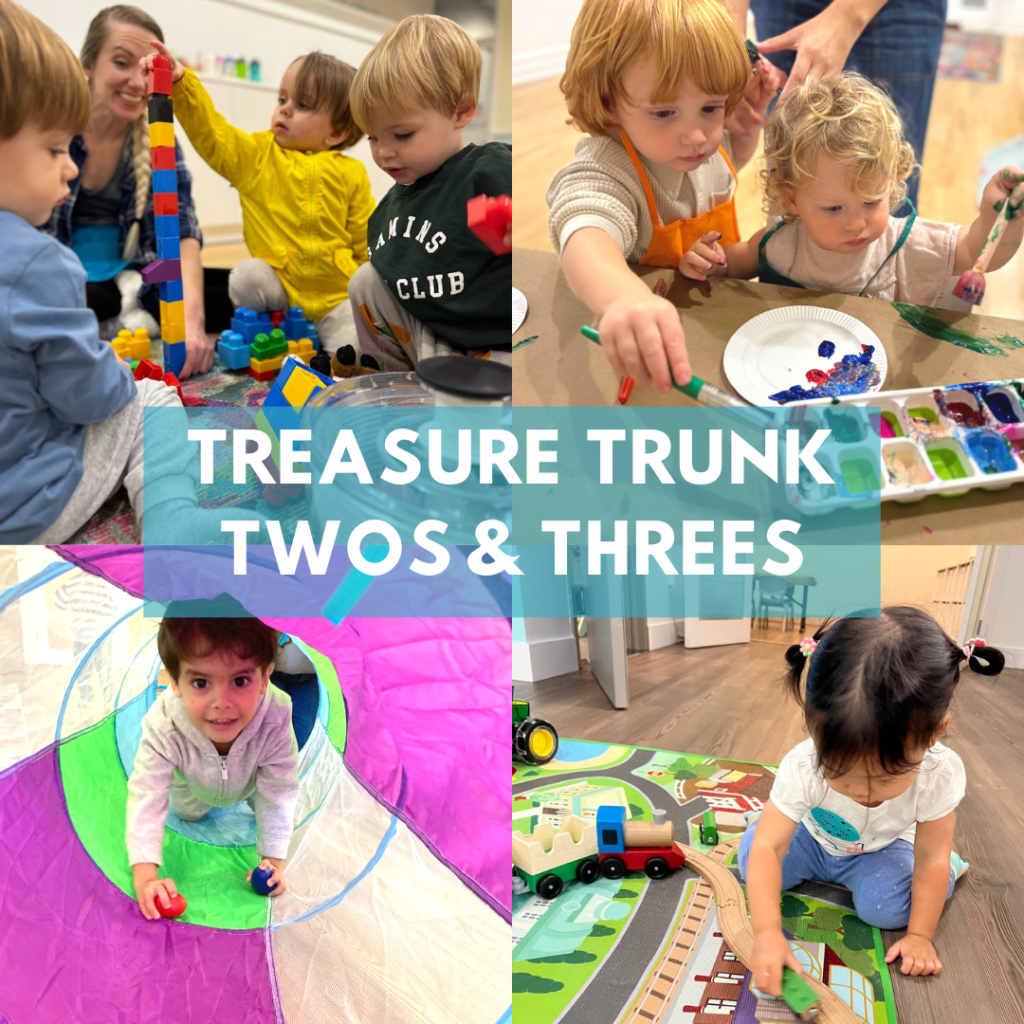 Our Treasure Trunk Twos & Threes Program inspires curiosity, exploration, communication, imagination, and positive social and emotional interactions. At Treasure Trunk Theatre we believe in child-led, creative play based learning. Our program will introduce your child to a classroom setting with a gentle separation process for families and their kiddos.
A mixed-age classroom for our early preschool-aged learners provides an array of benefits for both the younger and older students. The younger students build confidence and gain new and exciting language and behavioral skills. Our older students build a strong sense of responsibility and leadership skills in the classroom community.
Each day, we will start the morning with open play in our beautiful space with toys and activities that support imaginative play as well as fine and gross motor skills. Children are also invited to work on an art project during this time. We then gather on the rug for circle time with morning hellos to encourage expression, a story and live music. We then wash hands and provide a healthy snack for the children to share. Children then transition back to choice time where they will continue to have self-directed play in our space. A sensory table, play kitchen, library, and age appropriate toys will be available for their discovery. We end our morning with a closing circle time with music and goodbyes.
For the first few weeks, grown-ups will join the class as needed until their child feels confident and comfortable being in the classroom without their presence. Our caring teachers offer encouragement and a nurturing environment where the children feel safe and secure within their classroom before the separation.
Children at this age are exploding with power to communicate, to move purposefully, to assert their independence and individuality, and to control their important bodily functions. Our nurturing teachers are there to support them in their growth and development and will provide weekly updates for parents. Come explore and play with our Twos & Threes at the Trunk!
For kiddos born July 1st, 2020 – January 31st, 2022.
TREASURE TRUNK ATLANTIC (141 Atlantic Ave)

Tuesdays & Thursdays – Optional Fridays
2-day or 3-day options
9:10-10:45am OR 11:00am-12:45pm
TREASURE TRUNK PARK SLOPE (179 4th Ave)

Mondays and Wednesdays
9:10-10:45am
WITH OPTIONAL EXTENDED DAY Until 11:45am
"Our family is so glad that we found Treasure Trunk for our three year old! It so important to us that our he learns and socializes in an environment that is warm, patient, imaginative and knowledgeable about development. The delightful treasure trunk team tics all these boxes. Our child wakes up every day asking if today is a treasure trunk day. He recently mused "I could go to Treasure Trunk a Million Times!" Our thoughts exactly!" – Marylen M.
"I'm such a fan of the treasure trunk approach. The teachers are warm and nurturing and handle every situation with kindness and care. I'm extremely picky when it comes to childcare and my child is very sensitive. But we both love the treasure trunk theatre camps and their twos/threes program and we are so grateful to have found them <3" – Kim R.