Act, move, create, and play – where will your imagination take you today?  Treasure Trunk Theatre is a theatrical arts program for children that explores drama through imagination. In each class the students will incorporate movement, music, theatre games, and visual arts to express themselves and connect with the world around them. Here at Treasure Trunk, we pride ourselves on being a company that focuses on the journey – it is not about the final product, but rather what your child will learn through the process. We aim to provide a nurturing environment for children to develop and expand their creative energies. 
Six years ago, our founder and CEO, Elisa Pupko had a dream of bringing her unique theatrical curriculum to the kiddos of Brooklyn and beyond. We are so proud to say that Treasure Trunk has now expanded to neighborhoods in Brooklyn, Manhattan, Queens, and New Jersey. We have also recently fulfilled a huge dream of ours and opened the first ever Treasure Trunk Studio, located on Atlantic Avenue. Come join us for a drop in class, a week long camp, or a full semester! We look forward to seeing you soon!
Read what parents say about our programs by clicking here.
Teaching Artists
Our amazing teaching artists are passionate about inspiring a love for the arts in children. All Treasure Trunk teaching artists are theatre professionals and have extensive experience working with young children. Their experience and knowledge, combined with the Treasure Trunk philosophy, provides our students with a unique educational and nurturing environment which aims to empower the personal and creative growth of our students.
Founder & CEO
 Elisa is an actor and singer with a desire for igniting a  passion for the arts in young  children. In 2012, Elisa founded Treasure Trunk Theatre, to combine her love for  theatre and her devotion to teaching young children.
As a professional actor and childcare provider in New York, Elisa saw a need for programming that could allow young children to explore their imaginations and develop a strong sense of self. She sees the magic of theatre and make believe as a powerful teaching tool that instills empathy and compassion in children early on. Elisa is passionate about bringing the arts to underserved communities and runs an outreach program within Treasure Trunk that provides theatrical classes to communities in NYC.
She herself began performing at a  young age and thanks to an ambitious drama teacher, was cast in her first play: Hamlet(!) at  nine years old. She continued performing throughout her adolescent years both in school  and local community theatres. She received her degree in Drama from The University of Washington in Seattle. With over 18 years of experience working with children, she has taught theatre to children at Seattle Children's Theatre, The Shoreline Arts Council, Ridgecrest Elementary, and Taproot Theatre, where she performed for elementary through high school students across the Pacific Northwest in anti-bullying shows. She has worked professionally with many New York theatre companies and regional theatres across the country. Proud member of Actor's Equity Association. For more information about Elisa as an actor, please visit www.elisapupko.com.
In 2017, Elisa opened Treasure Trunk's flagship location on Atlantic Ave to provide an inviting space not only for her own programming, but to provide an affordable space for other local artists/musicians/performers to run unique wholistic programming for children.
Born and raised in Seattle, Elisa currently resides in Brooklyn with her husband, young daughter, and mini Aussie.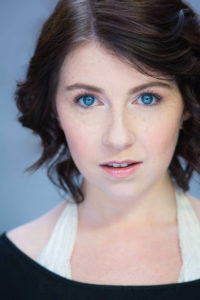 Eliza McCoy 
 Program Director & Lead Teaching Artist
Eliza McCoy is a New York City-based teaching artist, singer/songwriter and performer. She graduated from NYU's Tisch School of the Arts with a focus in Musical Theater. Eliza has written and performed in original musicals, most recently Fruit of the Sea, which was developed at The Barn Arts Collective and made its NYC debut this past year. Additionally, she was seen at The Finger Lakes Musical Theater Festival in Elysium by Yianni Papadimos and Ben Chavez. As a teaching artist, Eliza has helped develop two music programs for students in Red Hook, Brooklyn, and volunteers as an after school tutor as well as a music +  songwriting teacher. Eliza is honored to join the team at Treasure Trunk Theater, and can't wait to imagine with your little ones!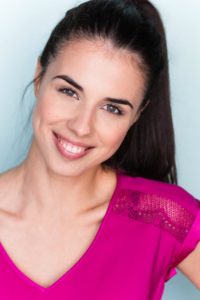 Mila Milosevic
 Marketing Coordinator & Lead Teaching Artist
Mila Milosevic is a professional actress, classically trained singer and teaching artist living in Manhattan. She was born and raised in Europe, and has been developing her performance skills since a very early age. She played the flute, sang in choirs, and performed solos across the continent before she eventually moved to the US to pursue her passions professionally. Mila currently trains at  the highly acclaimed MN Acting Studio, and studies improv and musical improv at the Magnet Theater. She has two national commercials, and several film projects in development. Mila loves working with children, and for the past 8 years has been teaching them about performing, singing and music in fun and creative ways. Mila is fluent in English, Hungarian and Serbian, and is a proud member of Mensa. Combining her love for children and performing, Mila has found the best of both worlds at Treasure Trunk Theatre! For more information about Mila, please visit: www.milamilosevic.com.
Ally Barrale

Program Assistant & Lead Teaching Artist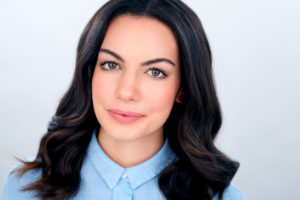 Ally Barrale is an actress and musician based out of New York City. She recently returned to America from working with Norwegian Cruise Line. She has been  working with children for over 10 years,  including volunteer teaching in West Africa and substitute teaching in Manhattan. She holds a B.A. in Theatre Performance from Marymount Manhattan College. Ally is eager to implement her two worlds together and create theatre with the amazing kids at Treasure Trunk!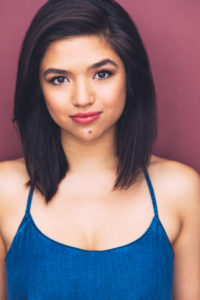 Kelsey Schergen

Lead Teaching Artist
Kelsey Schergen has been a proud teacher and fan of Treasure Trunk Theatre for over 3 years now!  She graduated with honors from NYU Tisch with a BFA in Musical Theatre and Minor in Education.  A Seattle native, Kelsey has performed in the national tours of Fame the Musical and The Wizard of Oz. Regional credits include Ariel in The Little Mermaid, Tiger Lily in Peter Pan, and Lisa in Mamma Mia. Kelsey is passionate about helping her students discover new ways of expressing themselves and connecting to others through theatre. She is thrilled to continue sharing her passion for the performing arts with the next generation!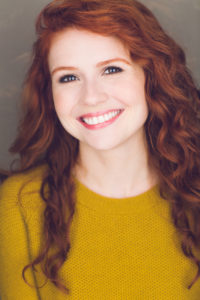 Kristin Parker
Lead Teaching Artist
Kristin Parker is a Brooklyn based actor/playwright as well as a teaching artist and child care provider. She's also a feminist a francophile and a foodie! Teaching for Treasure Trunk is one of the most joyful parts of her life! Kristin has been lucky enough to work with children for the last 15+ years, through child care, teaching, and acting. She has had the pleasure of starring in numerous TYA shows in the city and around the country including Pinkalicious the Musical, The Velveteen Rabbit, and A Christmas Carol. Kristin began acting at age 4 and hasn't stopped since. Her work can be seen on numerous television shows, web series, and films as well as on stage. For more information please visit www.KristinParker.com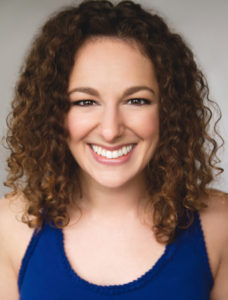 Samantha Cooper
Lead Teaching Artist
With over 15 years of experience working with youth in California and New York, Sam is delighted to be a part of the Treasure Trunk team.  She is a voice and stage actor, aspiring puppeteer, and teaching artist. Sam has enjoyed teaching through the Shakespeare Society, Writopia Lab, MaineStage Shakespeare, Hunter College, Equalogy, Inc., Communicable Arts, and various dance studios. She holds a B.A. from UC San Diego, and has trained at Shakespeare Santa Cruz, A.C.T., Circle In The Square, and the Lorenzo de'Medici school in Florence, Italy. She is a core company member with Poetic Theater Productions and voices roles on various cartoons (Regal Academy, Snack World, The Jungle Book…) Sam loves to foster creativity in kids of all ages and is constantly blown away by how inspiring the children at Treasure Trunk are! For more on Sam, please visit www.samanthafcooper.com.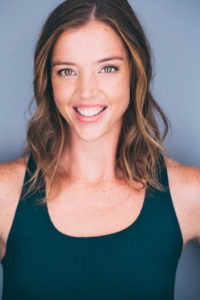 Emily Kitchens
Lead Teaching Artist
Emily Kitchens is a professional actor and theatre-maker with a great big passion for education. She has acted in classic to contemporary works at vital American theaters including The American Conservatory Theater, Yale Repertory Theatre, The Kennedy Center, The Guthrie Theater, Berkeley Repertory Theatre, The Denver Center for the Performing Arts and California Shakespeare Theater. She is a founding member of Hunger and Thirst Theatre Collective, as well as a founding core member of The Group Lab, a tribe of artists in New York City. She holds her MFA from The American Conservatory Theater. Emily is originally from Georgia and has taught and provided childcare for young people for over 10 years.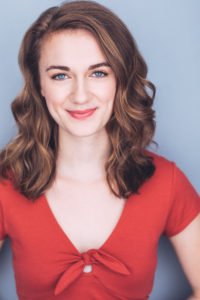 Keleigh Principi
Lead Teaching Artist
Keleigh is a Brooklyn based actor, theatremaker, and writer. She graduated from Pace Performing arts with a degree in acting. Her program focused on ensemble-devised theatre, and it was there she learned of the importance of generating new work. In 2015, she banded together with a few friends to create her own theatre ensemble, Don't Trust the Postal Service. Since graduation, Keleigh has shown original work throughout the tri-state area. She made her international theatre debut at the Exploriment Festival in Bangkok, Thailand. Her most recent show was developed at Drop, Forge, and Tool creative residency in upstate New York, and made its NYC debut at Dixon Place. She is currently making her foray into film, with several original projects set to hit the festival circuit later this year! Keleigh is also an avid reader, roadtripper, and diner enthusiast. She is so excited to be sharing her passion for theatre and acting with all the wonderful kids at Treasure Trunk! www.keleighprincipi.com 
Maggie Hood 
Maggie is an actor, teaching artist, and producer. She graduated with a BFA from NYU's Tisch School of The Arts a semester early with a degree in Theater while also studying child development. Maggie co-founded a little but fierce female-led theater collective focused on making Shakespeare accessible and fresh. She is committed to showing that Shakespeare is in fact not boring! Maggie has also been working with children for well over a decade babysitting, teaching classes and camps, and traveling with kiddos. A Brooklyn resident, she is a self-proclaimed lover of board games, folk music, and British television. She fills her time auditioning, working with children, spreading the magic of theater and creating opportunities for women. It is only fitting that her worlds collide as children remind us to play, use our imaginations, maintain a fully expressive emotional life and stay in the moment! Sounds like acting.
Megan Greener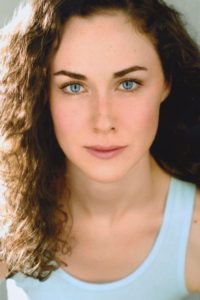 Megan is a New York-based actor, who was born and raised in Northern New Jersey. She attended Montclair State University, where she received her B.A. in Theatre Studies, and later studied under Maggie Flanigan at the Maggie Flanigan Studio, a 2-year Meisner professional training program in Chelsea, New York. Megan works consistently in theatre, film, and web media in the New York City Metro area, and is currently a proud resident actor of Hamlet Isn't Dead, a New York-based Shakespeare company that produces the Bard's works in chronological order. Throughout her years of undergraduate and post-graduate training, Megan has formulated her style of teaching between her experience as a Taekwondo instructor, her 200-hour yoga certification, and over 10 years of both private coaching (recreational, professional, and college prep) and co-teaching group theatre classes for students ranging from grades K-12 at the Fine Arts Connection, a performing arts studio in Pine Brook, NJ. Along with being thrilled to work with the wonderful staff and kids at Treasure Trunk Theatre, Megan is the program director and teaching artist for Developing Artists Theatre Company. For more information, visit www.megangreener.com.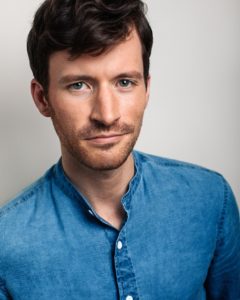 Kyle Schaefer

Kyle Schaefer is a professional actor with an extensive dance & music background. As a founding member of the theater company Recent Cutbacks, he still frequently gets to play like a kid. He holds an MFA from the American Conservatory Theater, and has performed at the Williamstown Theater Festival, Berkshire Theatre Festival, A.C.T., Arkansas Rep, Second City Training Center, Peoples Improv Theater, Shakespeare & Company, New Harmony Project, Kennedy Center, and internationally in Canada and France. He has performed and toured in numerous children's theater productions throughout his career, and teaches collaborative theater-making with Recent Cutbacks. www.kyleschaefer.com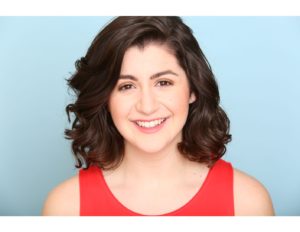 Victoria Giambalvo
Victoria Giambalvo is a NYC actor, singer, and theatre maker. She is so excited to be exploring imagination through theatre with such great kids and a great company! In addition to teaching with Treasure Trunk, Victoria can be seen leading 2-5 year olds in Sports and Music classes at Playgarden in Tribeca.  She is a cast member with STAR at The Directors Company, where she does shows in rep for elementary/middle/high schools through Manhattan focusing on emotional and reproductive health. She is surprised by how much education has fit itself into her life, and is excited to continue down this path with Treasure Trunk!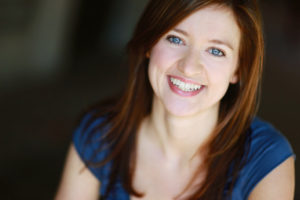 Laurel Casillo
Laurel Casillo is a professional actress and teaching artist in New York City. She received her degree in Theater Performance from Marymount Manhattan College and studied acting at The Neighborhood Playhouse. Since then she has performed in many regional theater productions, made her Broadway debut and is a proud member of Actor's Equity Association. Laurel is a volunteer for House of the Roses, a non profit organization that brings dance classes to children in NYC homeless shelters and community centers. A strong believer in the power of education through the arts, she is so excited to be a part of Treasure Trunk Theatre! www.laurelcasillo.com
Adrienne Littleton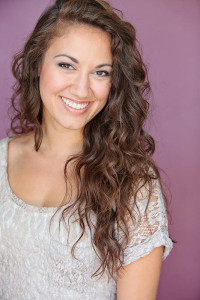 Adrienne is an actress and dance teacher currently living and working in Los Angeles.  She grew up helping out with her mom's dance classes, even when she was just a kid herself.  When she was nine she decided she either wanted to be an actress or a teacher, and as she got older she realized she didn't have to choose!  After graduating from the University of Washington with a Drama major and a Dance minor, she toured with Taproot Theatre's Road Company, performing around 250 shows for over 100,000 audience members a year.  In Los Angeles, Adrienne teaches ballet at Releve Studios and musical theatre at LEAP Academy.  She is so excited to have the opportunity to share her love of dance and storytelling with Treasure Trunk Theatre!  For more information on Adrienne, please visit www.adriennelittleton.com.